This manual is applicable to BVCAM, FRCAM, HDMINICAM APP.
The following demo uses FRCAM APP.
Download BVCAM APP
BVCAM's development company has ceased operations, and the app is now only available for download on Android.
LED Indicators
| | |
| --- | --- |
| Slow flash | AP mode |
| Fast flash | connecting to WiFi network |
| Solid | WiFi connected |
| Fast | ecording in progress |
| Solid | standby |
Connect BVCAM camera to phone
AP Mode
1. Open your phone "Settings" to find the camera's AP(Wifi) out and connect it.
The name of the AP is the UID of the camera label.
2. Open APP, camera finds out and show "Online"
If you open the APP page ,it does not display anything, click"

".In general, it is auto-discov-ered the camera
Remote Access Mode
For iPhone (For Android phone)
Note: since bvcam has stopped operation, you cannot access the camera remotely.
1. Click Setting '

' (same)
2. Click 'Device Settings' ('Advance Config')
3. Click 'WIFI Config'(same)
4. Select your home WiFi from the drop down list (Click'Dropdown triangle icon' to Select your home WiFi)
5. Enter your home wifi password. (same)
6. Click "OK" twice to save settings.(same)
7. Wating for the camera, it will show "Online"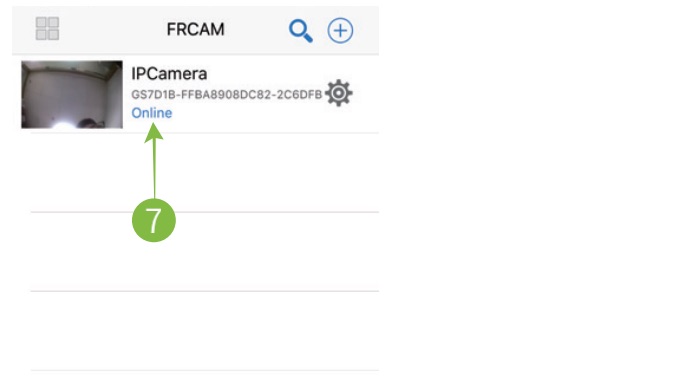 The camera takes up to 30 seconds to reboot. A solid red light indicates it has connected to WiFi network.
If the red light keeps flashing, check the following, reset your camera to AP mode and start over:
Is 2.4G WiFi enabled?
Does WiFi name only contain English letters and numbers?
Is your target WiFi network hidden (BSSID)?
Is AP Isolation feature turned off in your router?
Share BVCAM Camera
Click '
' icon, then 'Add new online device'.
Method 1. Manual ‒ Enter camera UID and password (default: 8888)
Method 2. Search (LAN) ‒ make sure your phone and the camera are in the same local network, and click "Search" button.
Method 3. QR code ‒ Click "QR Scan" to scan the QR code at the back of the camera.
How to set up BVCAM camera recording?
1. In "Advance Config", click "SDCard Record Config", select a recording mode from "Record" drop down list and click "OK" to save.
SD card status is displayed if inserted.
Only insert/remove SD card when the camera is powered off.
Blue LED flashes to indicate recording in progress.
2. Recording Options
Resolution: video resolution
File length (minute) : video recording length per file
Record sound: on/off
Loop recording: on/off, to fill the SD card with recordings and erase oldest video clips with newest recordings.
How to set the BVCAM camera motion detection?
1. In "Advance Config", click "Alarm Config", then select desired option in "Motion detection sensitivity" drop down list. Click "OK" to save settings.
2. Alarm Options
Alarm Schedule: select start and end time for motion detection
Warning Tone: unsupported by this camera
Email Alert: send email alerts to chosen email address
FTP Upload: upload snapshots of alerts to chosen FTP server
Alarm interval: 30 to 300 seconds
Push Notification: send alerts to mobile App
On-Screen Display: turn date/time overlay on/off
How to switch on and off the night vision lights and indicators?
To turn on/off IR lights, click on ' 1 ' icon during live streaming.
This button is used to turn on/off the indicator light.Once the camera is reset or restarted, the light will turn on.
BVCAM Email Configuration
Click on "Email Config" under "Advance Config".
Remember to enable email alerts after configuration.
Sender: sender's email address
Recipient: up to 4 email addresses
SMTP Server: Email provider's SMTP server
SMTP Port: default is 25 (consult your Email provider's instructions)
Transport Layer Security: (consult your Email provider's instructions)
User: sender's email user name
Password: sender's email password
Example:
For Outlook, use the following confifiguration:
SMTP server: smtp-mail.outlook.com
SMTP Port: 587
Transport Layer Security: STARTTLS
How to watch 4 BVCAM cameras at the same time?
NOTE: Set "Remote Access" At First!
Click " " ,then click "+" to add cameras.
2. Click "IPCamera" , Click "
" to watch the live videos
BVCAM For Pc
BVCAM For Pc only supports windows computers.
How to use BVCAM For Pc?
1. download the software
2. After download, open the zip fifile.
Follow below :PCTools >Windows PC > IPCMultiViewSetup V1.8 > IPCMultiViewSetup.msi
install software: IPCMultiViewSetup.msi
3. Open the software, account: admin, no need to fill in the password,then click to log in.
Note: To add with a computer, it needs to set up the camera to connect to the wifi with your phone first, or use the computer to connect to the camera's hotspot wifi.
4. Click Camera Setup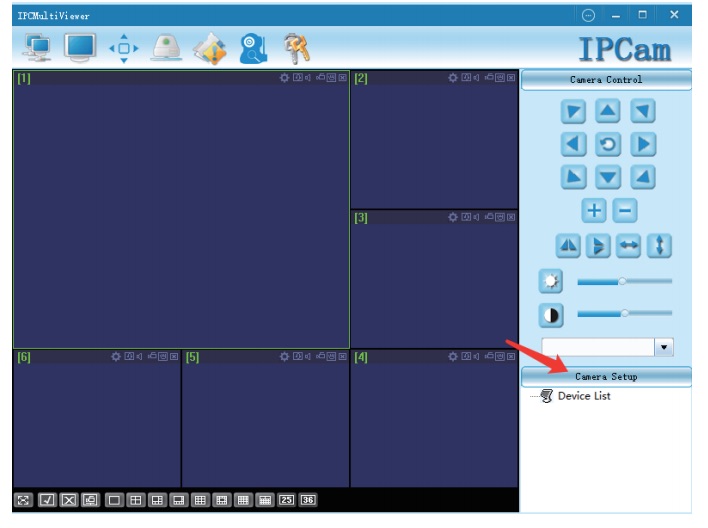 5. Click "+" entering ID and password, ID needs to all CAPITALS, default password is 8888, click "ok".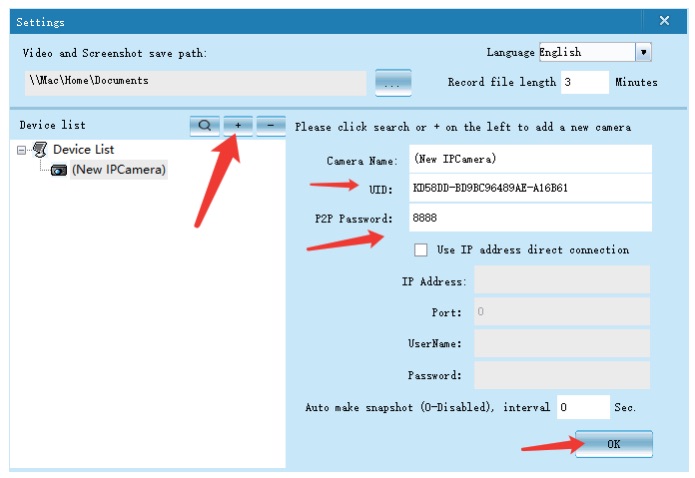 6. Double click the added camera to see the screen.
FAQ
How to reset the BVCAM camera?
Press and hold the reset button for 6 seconds to reset the BVCAM camera
What is the BVCAM camera web port and password?
BVCAM web port is 80
Username:admin No password